The animated feature officially opened Wednesday on three screens which include two showings in 3D.
New for Turkey Day, Roman J Israel , Esq., a Los Angeles crime drama, and exclusively at Pullman, "The Man Who Invented Christmas," which examines how Charles Dickens created the iconic "A Christmas Carol."
FLASHBACKS
Home Alone runs Sunday and Wednesday, Nov. 26 and 29 @ 3:30 & 7 p.m.
White Christmas is on tap Sunday and Wednesday, Dec. 3 & 6 @ 3:30 & 7 p.m.
LAST DAY: Geostorm; Let there be Light
NEW THIS WEEK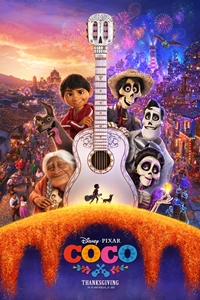 COCO
Despite his family's baffling generations-old ban on music, Miguel (voice of newcomer Anthony Gonzalez) dreams of becoming an accomplished musician like his idol, Ernesto de la Cruz (voice of Benjamin Bratt). Desperate to prove his talent, Miguel finds himself in the stunning and colorful Land of the Dead following a mysterious chain of events. Along the way, he meets charming trickster Hector (voice of Gael García Bernal), and together, they set off on an extraordinary journey to unlock the real story behind Miguel's family history.
ROMAN J. ISRAEL ESQ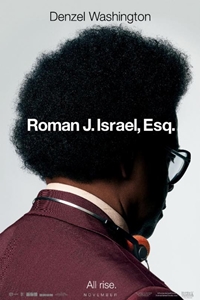 Roman J. Israel, Esq. is a dramatic thriller set in the underbelly of the overburdened Los Angeles criminal court system. Denzel Washington stars as a driven, idealistic defense attorney whose life is upended when a turbulent series of events challenge the activism that has defined his career. Colin Farrell costars as the ambitious, monied lawyer who recruits Roman to his firm.
MAN WHO INVENTED CHRISTMAS
Using real-life inspiration and a vivid imagination, author Charles Dickens brings Ebenezer Scrooge, Tiny Tim and other classic characters to life in "A Christmas Carol," forever changing the holiday season into the celebration known today.
MARQUEE PULLMAN TIMES:
Pullman Square 16
https://www.facebook.com/MarqueeCinemasPullmanSquare
BAD MOMS XMAS (R)
Daily:  12:00  2:30  4:55  7:25  9:55
COCO (PG)
Daily:  11:40  12:10  12:40  2:40  3:40  5:40  6:10  6:40  8:40  9:35
COCO 3D (PG)
Daily:  3:10  9:05
DADDYS HOME 2 (PG13)
Daily:  11:55  2:20  4:45  7:10  9:40
DEATH DAY (PG13)
Daily:  11:45  2:25  4:55  7:15  9:40
HOME ALONE (PG)
Sun  Wed:  3:30  7:00
MAN WHO INVENTED CHRISTMAS (PG)
Daily:  1:10  4:10  7:10  9:40
IT (R)
Fri  Sat  Mon  Tue  Thu:  12:10  3:20  6:25  9:30
Sun  Wed:  12:10  9:30
JIGSAW (R)
Daily:  1:15  3:45  7:25  9:55
JUSTICE LEAGUE (PG13)
Daily:  12:30  1:00  4:00  6:30  7:00  9:45
JUSTICE LEAGUE 3D (PG13)
Daily:  3:30  9:15
ORIENT XPRESS (PG13)
Daily:  12:20  3:20  6:20  9:20
RAGNAROK (PG13)
Daily:  12:15  3:15  6:15  9:10
ROMAN ISRAEL (PG13)
Daily:  12:25  3:25  6:25  9:25
THE STAR (PG)
Daily:  11:50  2:10  4:30  6:45  9:00
WONDER (PG)
Daily:  12:50  3:50  6:50  9:30