'Bullet Train' Stays #1, but Slips Substantially
None of the new wide openings made the top 5. Some didn't make the top 10. Bdbies, Bodies, Bodies has around $3million for eighth place and Mack and Rita finished `1th just edging the one million dollar mark.
Maverick got a revival and nearly tied DC Super Pets for second place. Thor, Nope and Minions Rise of the Gru next hovering in the $5 million dollar range.
Crawdads, Bodies, Elvis and Easter Sunday finished off the top spots.
Thursday preview: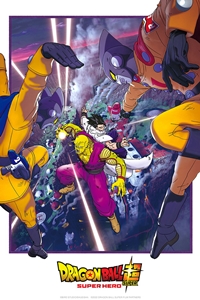 TRAILER ▶
DRAGON BALL SUPER: SUPER HERO
PG-13
Animation
1 hr. 39 min.
CAST
Masako Nozawa, Toshio Furukawa, Yuko Minaguchi, Ryo Horikawa
DIRECTOR
Tetsuro Kodama
MORE INFORMATION ►
2D

Action; Dubbed; Language; Violence
5:00PM
7:25PM
This week, The Beast.
Recently widowed Dr. Nate Daniels and his two teenage daughters travel to a South African game reserve managed by Martin Battles, an old family friend and wildlife biologist. However, what begins as a journey of healing soon turns into a fearsome fight for survival when a lion, a survivor of bloodthirsty poachers, begins stalking them.