LIFETIME SERIES: 'Witches of East End' Airs Sunday
On January 31, 2013, Lifetime confirmed that they were ordering ten episodes with the intention of airing "Witches of East End" later in 2013. The series stars Julia Ormond, Eric Winter, Jenna Dewan-Tatum, Rachel Boston, Madchen Amick, and Daniel DiTomasso. It was filmed in Wilmington, NC and Vancouver, Canada (the book is set in the eastern end of Long Island).
My review of one of the books the series is based on:
 BOOK REVIEW: 'Blue Bloods': Graphic Novel About Vampires Who Are Much More Sophisticated than the 'Twilight' Bunch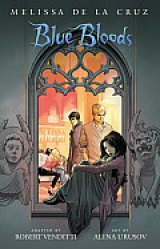 Melissa De La Cruz is a wonderful fantasy writer, as I learned reading her "Serpent's Kiss,"  the second entry in her "Witches of East End" series. (link to my review:http://www.huntingtonnews.net/39228)  last July. 
The first entry in her young adult Blue Bloods series has been transformed into a graphic novel, "Blue Bloods: The Graphic Novel" by Robert Venditti, with gorgeous illustrations by Alina Urusov (Disney Hyperion, 112 pages, $11.99). Venditti is an experienced, best-selling author and graphic novel adapter. Alina Urusov is a Canadian illustrator who illustrated and colored Marvel's "X-Force" and "Young Avengers Presents."
The sexy and secretive world of the Blue Bloods is a far cry from the rustic charms of the Pacific Northwest as portrayed in the "Twilight" books. The glitz and glamour of NYC comes alive in this   graphic novel adaptation of Book One in Melissa de la Cruz's best-selling series. 
 Within New York City's most elite families, there lurks a secret society of celebrated Americans whose ancestors sailed on the Mayflower. Its members are the powerful and the wealthy -- and, in fact, they are not human. 
They are the Blue Bloods, an ancient group of vampires.
Schuyler Van Alen is a loner and happy that way. But when she turns fifteen, her life takes a dramatic turn. She discovers a mosaic of blue veins on her arms and craves raw meat. The death of a girl at her school is surrounded by a mystery that haunts her.
And strangest of all, Jack Force, the most  popular boy in school, starts showing a sudden interest in her. Schuyler wants answers about the mysterious Blue Bloods, but is she putting herself in danger?
A visually stunning and intoxicating graphic novel set against the glitzy backdrop of New York City, Blue Bloods: The Graphic Novel is sure to be devoured by fans, old and new.
Look for my upcoming review of another entry in the extensive Blue Bloods novel series, "Gates of Paradise."  Both of these novels appeared in January, but -- and I'm not making this up -- they were hidden behind and under my bed! By some mysterious force who didn't want me to review them? Or just an accident common to those who read in bed. I found them when I replaced my flat mattress bed with an adjustable one, which is much more suited to my reading habits. No kidding!
About the author

Melissa de la Cruz is the New York Times and USA Today best-selling author of many critically acclaimed and award-winning novels for teens including "The Au Pairs" series, the "Blue Bloods" series, the "Ashleys" series, the "Angels on Sunset Boulevard" series and the semi-autobiographical novel "Fresh off the Boat." Her books for adults include the novel "Cat's Meow", the anthology "Girls Who Like Boys Who Like Boys} and "The Fashionista Files: Adventures in Four-inch heels" and "Faux-Pas".
Melissa grew up in Manila and moved to San Francisco with her family, where she graduated high school salutatorian from The Convent of the Sacred Heart. She majored in art history and English at Columbia University (and minored in nightclubs and shopping!). She and her husband and daughter live in Los Angeles and Palm Springs. Her website: www.melissadelacruz.com