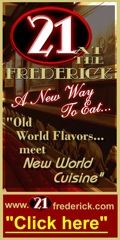 Most read
Council Discusses Televised Meetings
Councilman Gary Bunn reiterated that he was embarrassed that everyone could not fit into the council chambers for Sen. Joe Manchin's  town meeting on the water crisis. Could it have been moved to a larger on site venue?  Yes, the auditorium would have been available, but Manchin's team  selected the Huntington City Hall chambers so the meeting would be televised live. In addition, Bunn suggested flexibility for holding a council meeting at the Junior League Building, where the Southside Neighborhood Association meets.
Council member Joyce Clark proposed deleting the "live" requirement from the ordinance.
City Attorney Scott McClure indicated that televising council meetings is a "novel" proposition in West Virginia, calling it a "policy decision." He agreed the proposed ordinance added greater "flexibility," yet live television is the most inexpensive option.
As written the ordinance allows council to meet elsewhere, but requires that the meeting be televised live from city hall.
Gillespie countered the deletion of "live" with concerns that the broadcast of meetings "keeps the fire lit under us."
He stressed the circumstances do not matter to him, but pointed at a stationary , unmanned camera which opens the window to those outside council chambers be it for work sessions, council meetings, council committee meetings, as well as commissions and boards (i.e. Huntington Sanitary Board, Planning Commission, Housing Authority)
No one ventured a question on the cost factor(s) of a tape delay broadcast or a delayed internet stream.
Tom McCallister had advocated that the  changes equated to steps toward closed meetings. He mentioned that the Huntington Housing Authority fought in court to prevent public televised meetings in council chambers.
Although McCallister too decried the "live" deletion, he failed to justify how a tape delayed broadcast would impact the viewing public. By watching a viewer would not have an opportunity to hustle and give input prior to a vote.
Emphasizing his belief that the revised ordinance equated to mooting the televised requirement , Gillespie ripped  the ordinance in half from his seat.
The additional exceptions include technical difficulties, inability to broadcast from a venue, when state law supercedes, executive sessions (discussion of personnel or legal matters which are also exempt from the state open meetings law), and ad hoc committee meetings (such as the police search committee which is also exempt under the state open meetings law).
He originally  proposed removing all exceptions other than  executive sessions.
Councilman David Ball noted that as written council members could be fined for not televising the meeting, even if it is due to technical difficulties. Council vice chair Scott Casserta reminded, "gadgets can go down." But Gillespie recalled that no fines have been issued for prior technical issues.
Chairman Mark Bates asked about  mayor's ad hoc or council ad hoc committees, to which Gillespie agreed to exempt.
Councilman Rick Simmons inquired, "nothing takes away the voice of the people," to which Ms. Clark responded, "it strengthens the ordinance, not weakens it."
Gillespie's removal of exceptions failed 9-2 (Ms. Thacker and Gillespie dissented ) and Clark's removal of "live" passed by voice vote.
The ordinance goes to a second reading --- and public comment --- at the next council meeting.
Comments powered by

Disqus