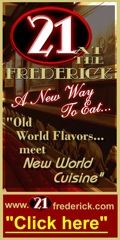 Huntington Man Sentenced for Illegal Firearm Possession
In January of 2014, Schlotter possessed two stolen guns at his home on First Avenue Rear in Huntington. Schlotter was holding the guns for a known heroin dealer who had received them in payment of a heroin debt. Schlotter was holding the guns for the heroin dealer in exchange for heroin for Schlotter's personal use.
Chief Judge Robert C. Chambers set the sentencing for September 2, 2014.
This case is being prosecuted as part of an ongoing effort led by the United States Attorney's Office for the Southern District of West Virginia to combat the illicit sale and misuse of prescription drugs and heroin.  The U.S. Attorney's Office, joined by federal, state and local law enforcement agencies, is committed to aggressively pursuing and shutting down illegal pill trafficking, eliminating open air drug markets, and curtailing the spread of opiate painkillers and heroin in communities across the Southern District.
Comments powered by

Disqus